Bronze birch borer frequently kills birch trees by boring into the wood.
WHAT ARE PHENO FORECASTS?
Pheno Forecast maps predict key life cycle stages in invasive and pest species, to improve management efficacy. For insect pest species, Pheno Forecasts are based on published growing degree day (GDD) thresholds for key points in species life cycles. These key points typically represent life cycle stages when management actions are most effective. These maps are updated daily and available 6 days in the future.
---
SPECIES BACKGROUND
Bronze birch borer (Agrilus anxius) is wood-boring beetle that is native to North America. Periodic outbreaks of this borer have led to widespread mortality of birch (Betula spp.) trees; beech (Fagus spp.) trees can also be affected. 
---
Credits: John A. Weidhass, Virginia Polytechnic Institute and State University via Bugwood.org
Image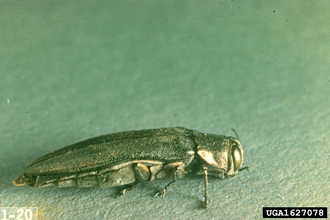 ADULT BEETLE FORECAST
We forecast adult emergence based on the accumulation of growing degree days. One approach for controlling bronze birch borer is to treat with pesticide when adults begin to emerge, with the goal of controlling newly hatched larvae before they burrow into the bark and are no longer susceptible to control. For specific information on preferred treatment options in your region, we recommend contacting your local extension agent. Additional treatment resources are available through Missouri Botanical Garden. 
---
EXPLORE THIS FORECAST
Learn more about this forecast using our visualization tool!