Coordinated Monitoring
The National Ecological Observatory Network and the USA National Phenology Network are natural partners - and that's no coincidence! The USA-NPN was envisioned as a complementary network at early NEON planning meetings. While NEON is characterized by intensive monitoring, with many ecological measurements-- including plant phenology collected at 81 sites, the USA-NPN is extensive, with volunteer participants monitoring phenology at thousands of sites. We've worked closely together for over a decade to develop shared monitoring protocols and ensure data quality, integration, access and equity. Today NEON plant phenology observations are delivered through both the NEON and USA-NPN portals, enabling easy access, analysis and visualization with data collected via Nature's Notebook. You can learn more about our work together in the November 2022 NEON Science Series presentation.
Image

Image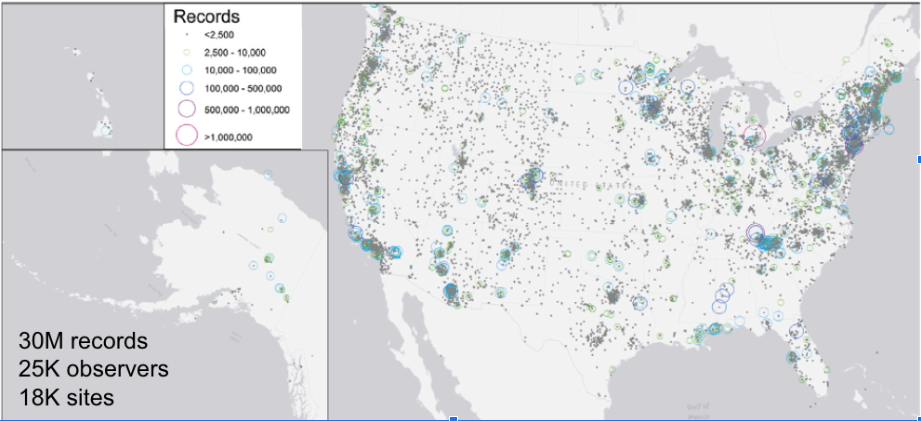 Map of observation records contributed through NEON and the USA-NPN's Nature's Notebook program.
Indigenous Phenology
Since 2014, the USA-NPN and NEON have collaborated with Indigenous researchers and  communities through the Rising Voices Center for Indigenous and Earth Sciences and the Indigenous Phenology Network. These efforts center on building relationship, respect and reciprocity, honoring multiple knowledge systems, and ensuring benefit to Indigenous partners. Our collaboration has been mutually enriching, and enabled both organizations to do more to highlight Indigenous voices and introduce new ideas to our institutions. With our partners, we hosted a session at the Ecological Society of America's 2020 meeting, called "Indigenous Phenology: New Mindsets for Working Among Worldviews"
Data Integration
Another exciting area of collaboration is the Phenobase project. This open source, global scale knowledge base will integrate millions of existing plant phenological observations from in situ monitoring programs like the USA-NPN and NEON, community science images contributed to iNaturalist and Budburst, and digitized herbarium specimens compiled by iDigBio and GBIF. Phenobase expands upon earlier work to build an ontology (or shared vocabulary) and develop machine learning techniques to extract phenological information from images.