Image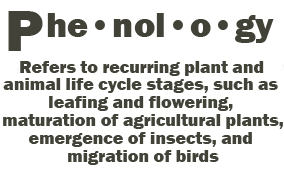 Why phenology?
Seasonal cycles in plants and animals are shifting in response to a changing climate. An understanding of these changes can inform climate adaptation, from vulnerability assessments to carbon stewardship and species management. Citizen science phenology efforts are also a growing way to engage visitors in monitoring and understanding climate change impacts.
Image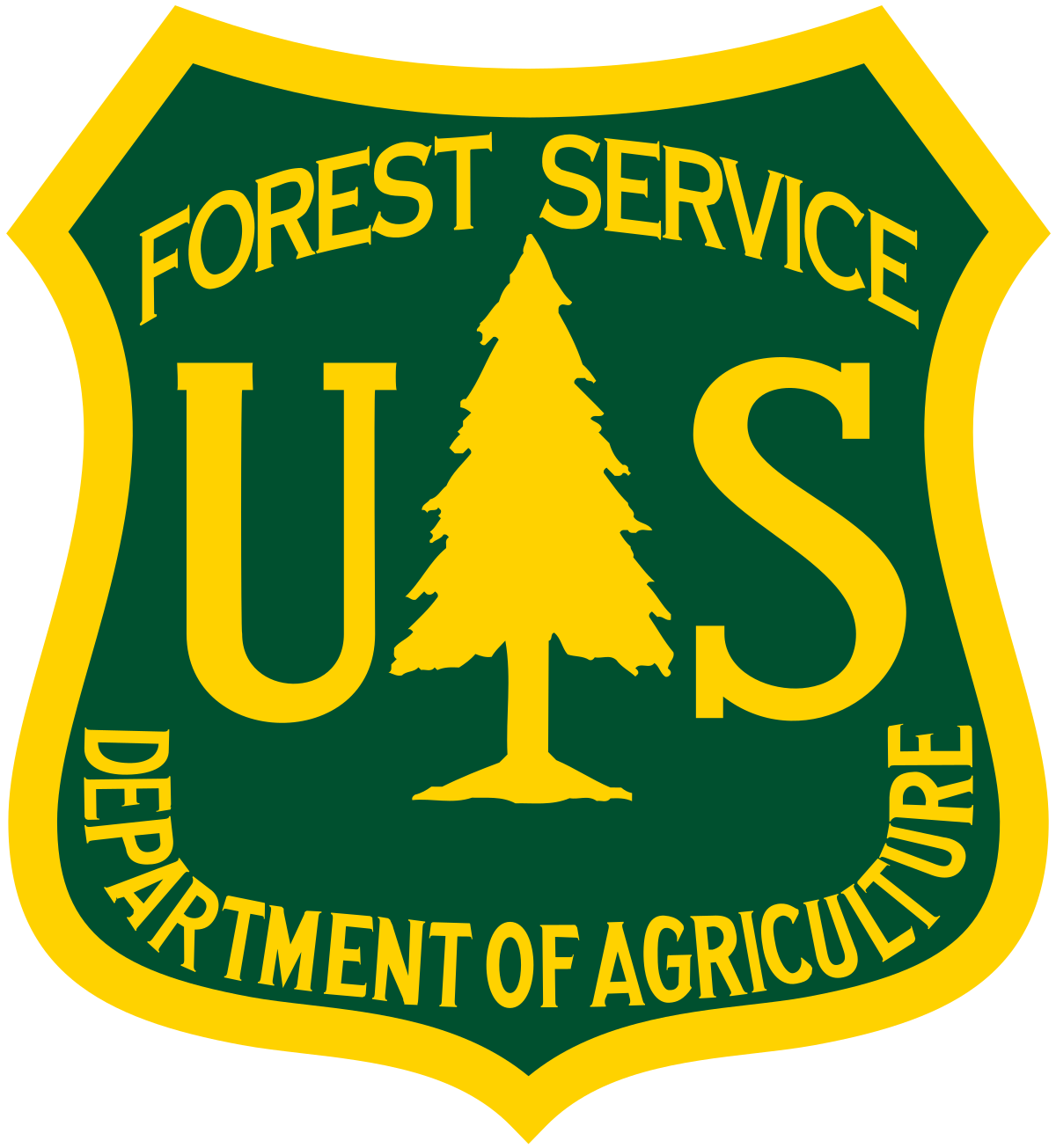 Activities
The Office of Sustainability and Climate and the USA National Phenology Network are collaborating to develop data, tools and partnerships to support monitoring and climate adaptation across the National Forest System. The USA-NPN provides observational data on many species of interest to forest managers, as well as tools for engaging the public in data collection, described below.
Changes in the timing of spring at National Forests
Spring is arriving earlier across much of the United States. The USA-NPN hosts a nationally standardized bioclimatic indicator of spring arrival, called the Spring Index, to help shed light on patterns of spring arrival. We've created two products to support monitoring and management at the forest unit level (learn more about the data and methods):
Long-term patterns: How do recent springs compared to the 120 year record? (map preview at right)
Recent springs: What patterns do we see in recent springs? This interactive tool which shows patterns in spring arrival across the last 30 years. 
Image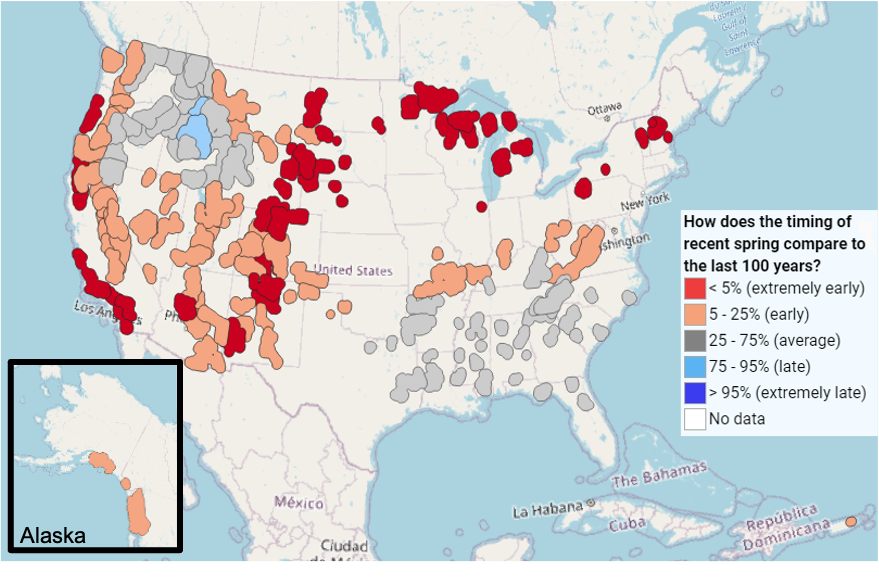 For each USDA National Forest, how do recent dates of leaf out compare to the historic range of variation in leaf out (1901-2012). A designation of "extremely early" means that recent springs fall at the extreme edge of the distribution (below the 5th percentile). Find out more about the Spring Indices.
Data collection campaigns
The USA-NPN leads several data collection campaigns that are relevant to USFS focused on the timing of leaf out of deciduous trees, presence of insect pests, and flowering of nectar plants important to pollinators. 
Image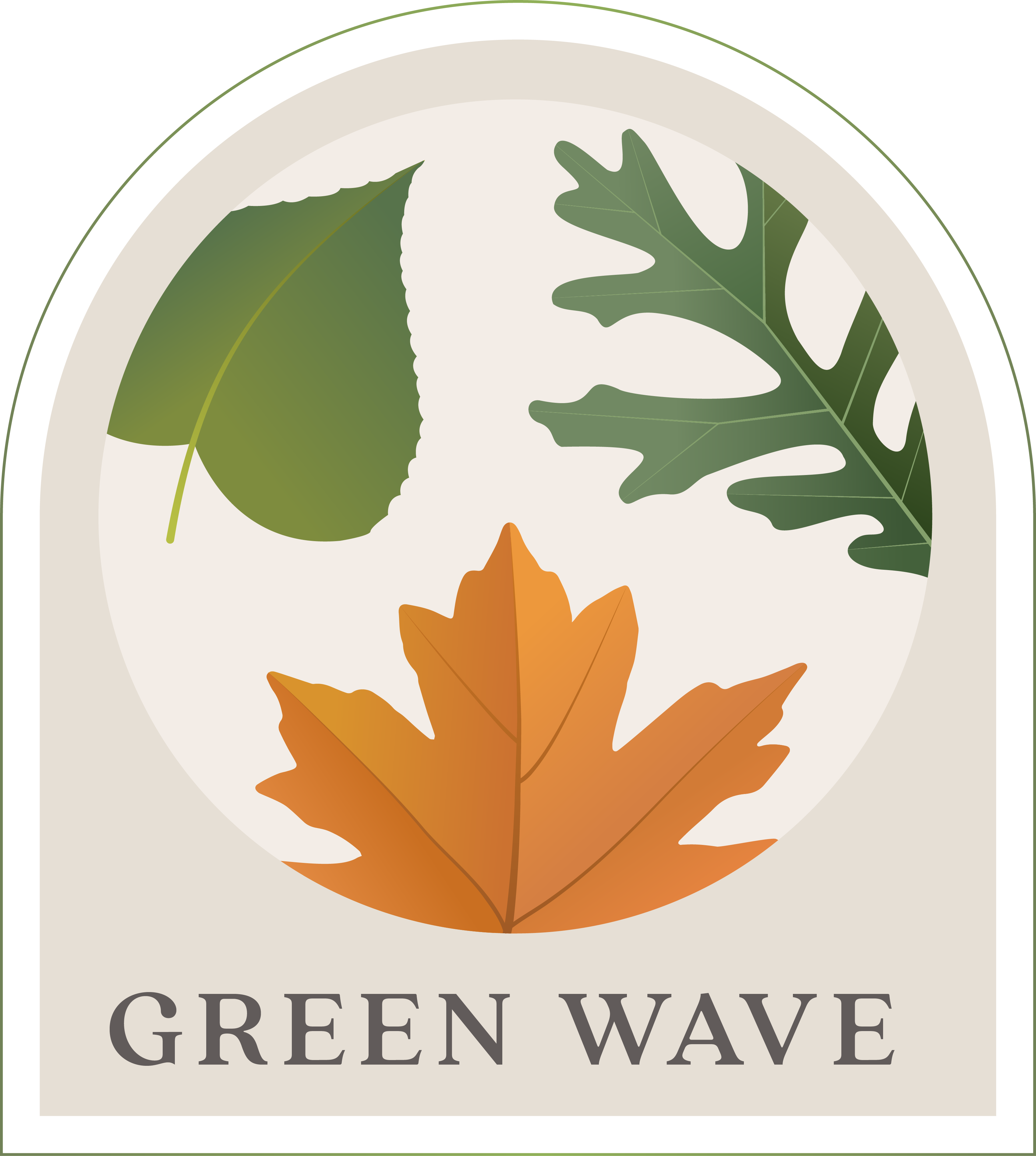 Image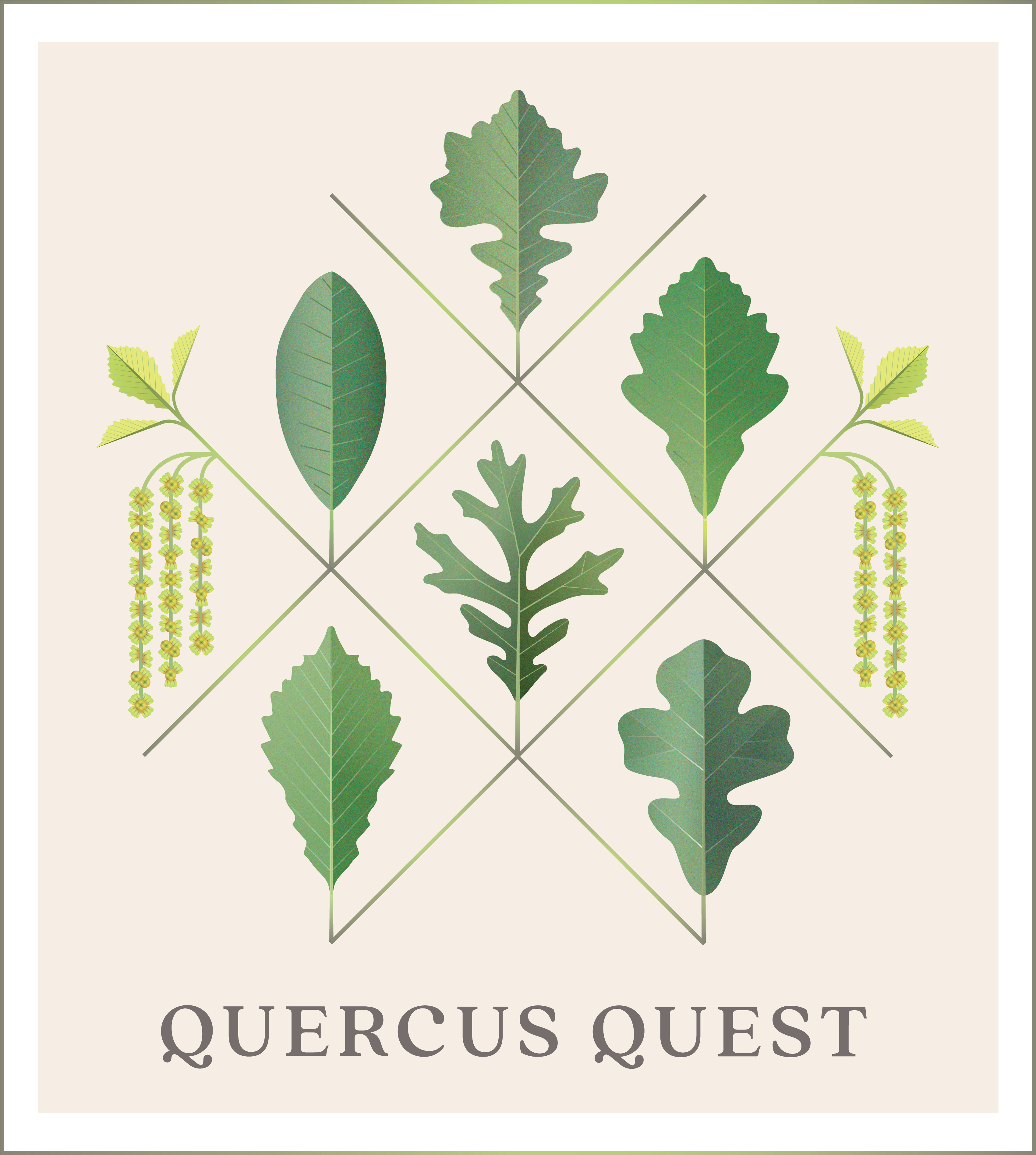 Image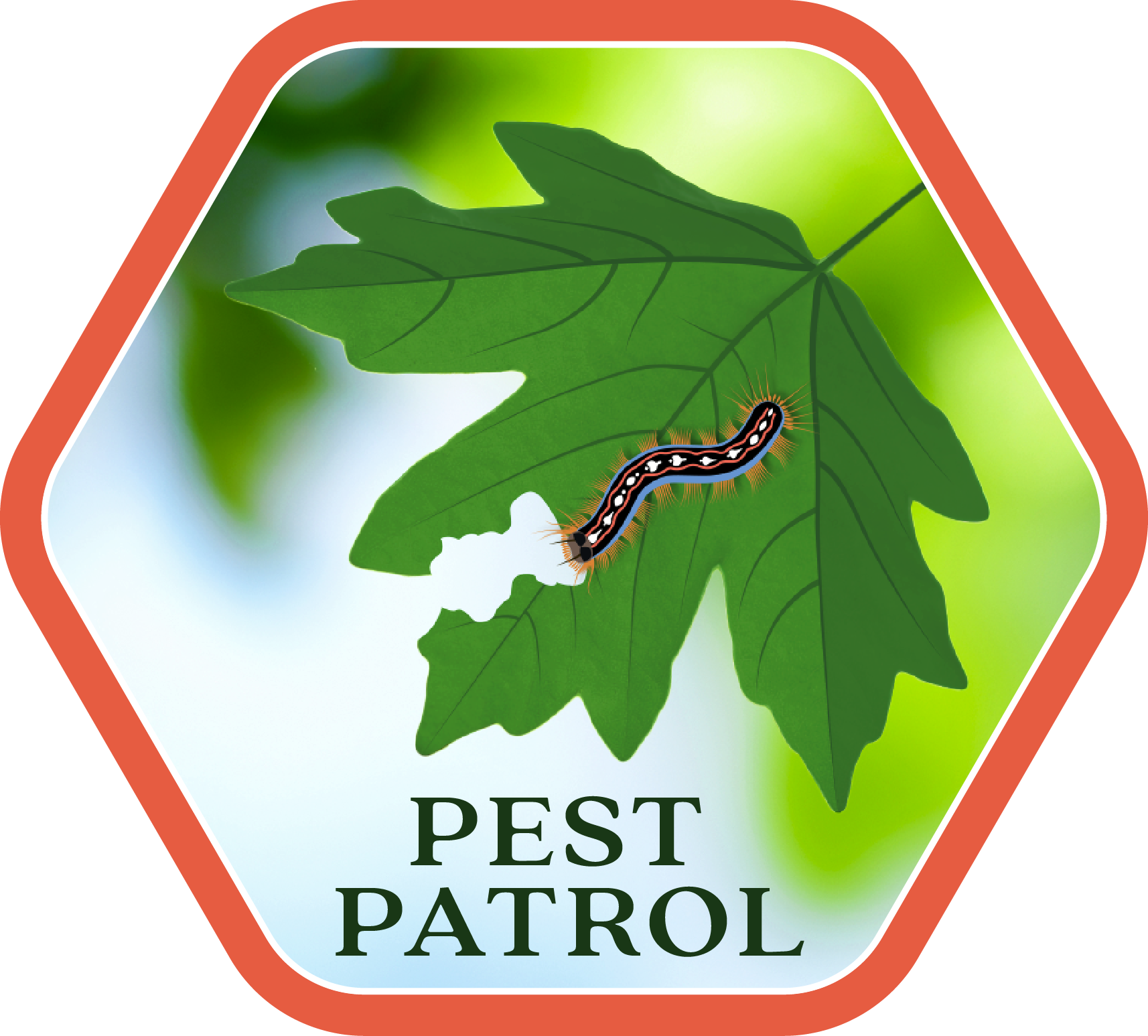 Image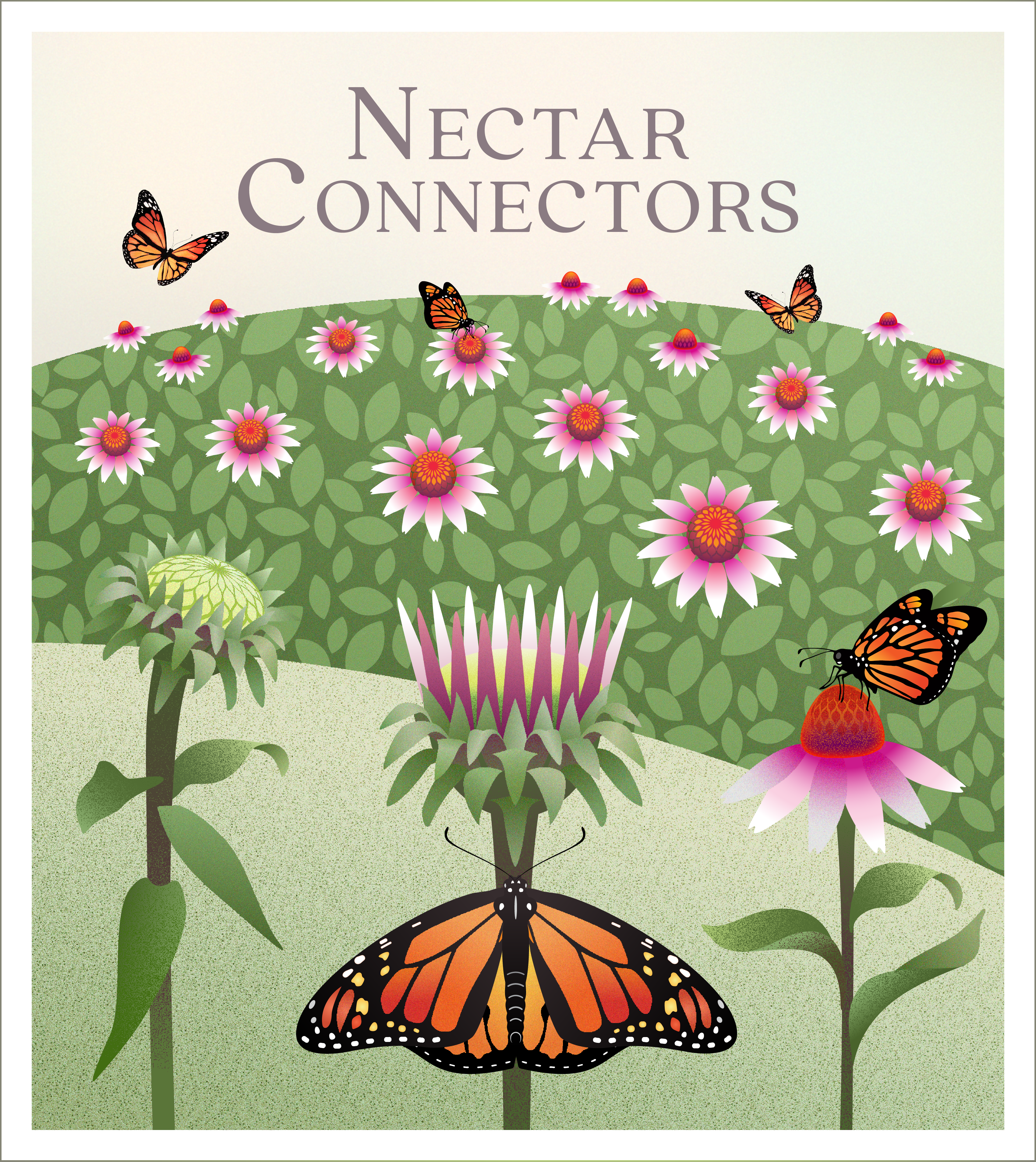 Local Phenology Leader Certification Course
Local Phenology Programs (LPPs) are efforts led by organizations or community groups that seek to use phenology to answer locally-relevant science questions, inform management decisions, or educated and engage visitors and volunteers. Local Phenology Leaders (LPLs) engage groups of observers in collecting data for an LPP. The USA-NPN offers a Local Phenology Leader Certification Course each spring and fall that walks LPLs though how to plan and implement a long-term phenology monitoring program. 
Image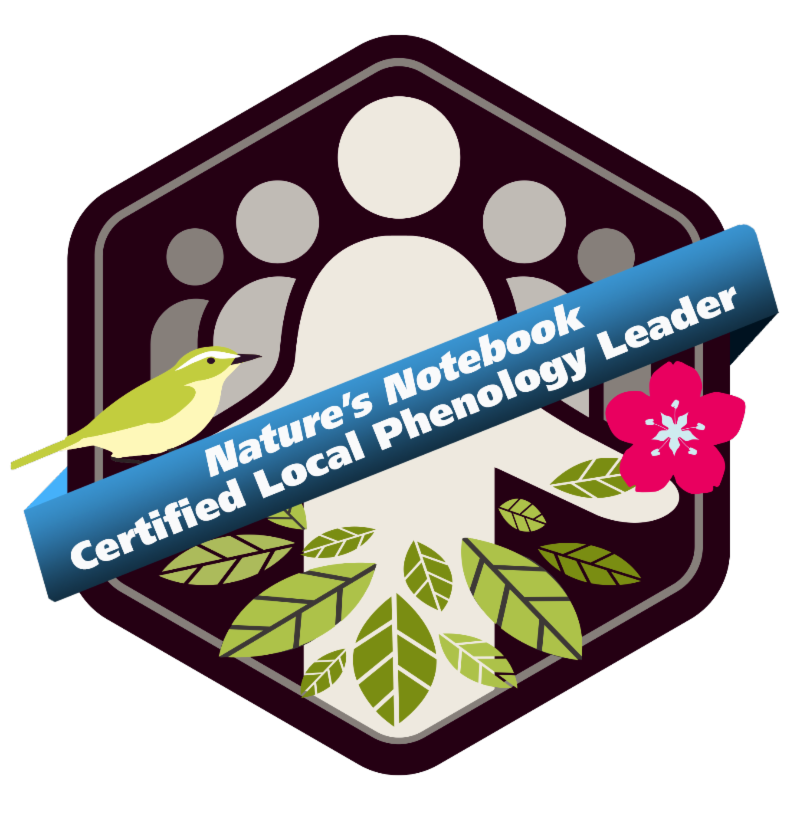 Forecasts of pests and invasive species
The USA-NPN makes available forecasts of pests that impact national forests as well as invasive grasses including buffelgrass and red brome. A selection of Pheno Forecasts particularly relevant for the USFS is in the table below; the full list of Forecasts may be found here. You can also sign up to be notified by email approximately two weeks and again six days ahead of pest activity at your location. 
Image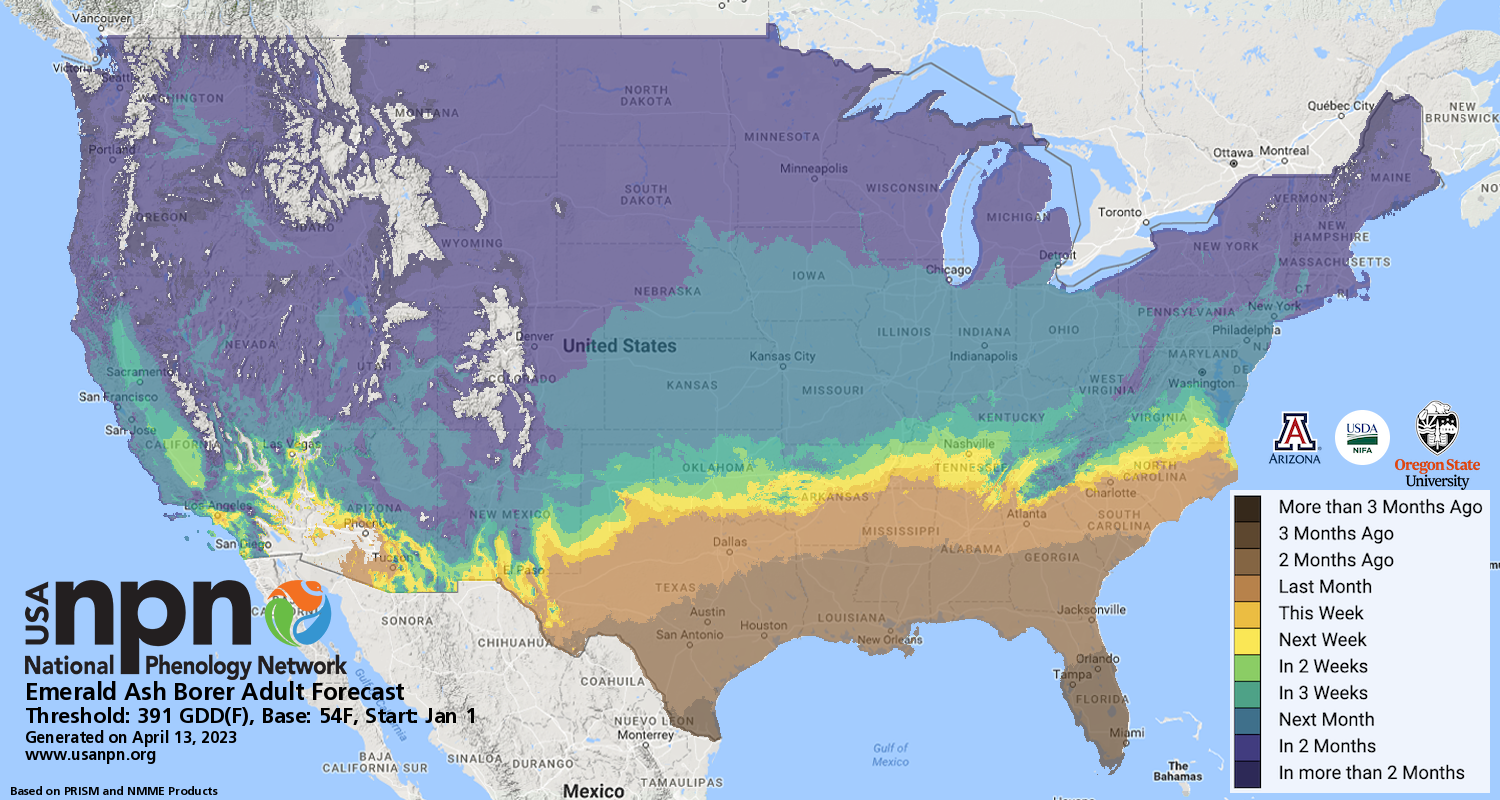 | | | |
| --- | --- | --- |
| Insect Pest | Forecasted life stage | Sign up for notifications |
| Spongy moth (Lymantria dispar) | View Pheno Forecast for caterpillar emergence | |
| Emerald ash borer (Agrilus planipennis) | View Pheno Forecast for adult emergence and egg hatch | |
| Asian longhorned beetle (Anoplophora glabripennis) | View Pheno Forecast for adult emergence | |
| Hemlock Woolly adelgid (Adelges tsugae) | View Pheno Forecast for eggs and active nymphs  | |