As a generalist pest, Asian longhorned beetle poses a great potential threat to eastern forests. It is currently contained in four small quarantined areas (two other areas are eradicated).  Burning firewood where you buy it is critical to stopping the spread of this pest. 

Citizen reporting is critical to national control efforts of this non-native species. If you see an Asian longhorned beetle please report it immediately to USDA APHIS.
WHAT ARE PHENO FORECASTS?
Pheno Forecast maps predict key life cycle stages in invasive and pest species, to improve management efficacy. For insect pest species, Pheno Forecasts are based on published growing degree day (GDD) thresholds for key points in species life cycles. These key points typically represent life cycle stages when management actions are most effective. These maps are updated daily and available 6 days in the future.
---
Credits: US Department of Agriculture
Image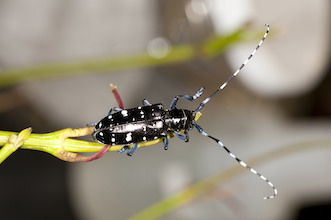 SPECIES BACKGROUND
Non-native Asian longhorned beetles (Anoplophora glabripennis) overwinter as both eggs and pupae. Adults emerge from pupae in the summer, and are typically active until October. Females lay eggs in the bark of trees and larva later emerge from the tree leaving perfectly round exit holes.
---
ADULT BEETLE FORECAST
We forecast adult emergence based on growing degree days. If you observe an adult Asian longhorned beetle, report it online immediately to USDA APHIS (or call 1-866-702-9938). Treatment of infested trees should always be done by professionals in conjunction with state and national pest management experts. Additional resources are available through USDA APHIS, Ohio, New York, Massachusetts and South Carolina Extension.
---
EXPLORE THIS FORECAST
Learn more about this forecast using our visualization tool!
| Phenophase | GDD threshold | Base temp | Upper threshold | Start date | GDD method | Model origin | Source |
| --- | --- | --- | --- | --- | --- | --- | --- |
| Adult emergence | 689.75oF | 50oF | 86oF | Jan 1 | Double sine | OH, NY, MA | Kappel et al 2017 and Trotter In Prep |
More information on map development and re-use policy.